ACEC 2023 National Award Winner - Cutter Lateral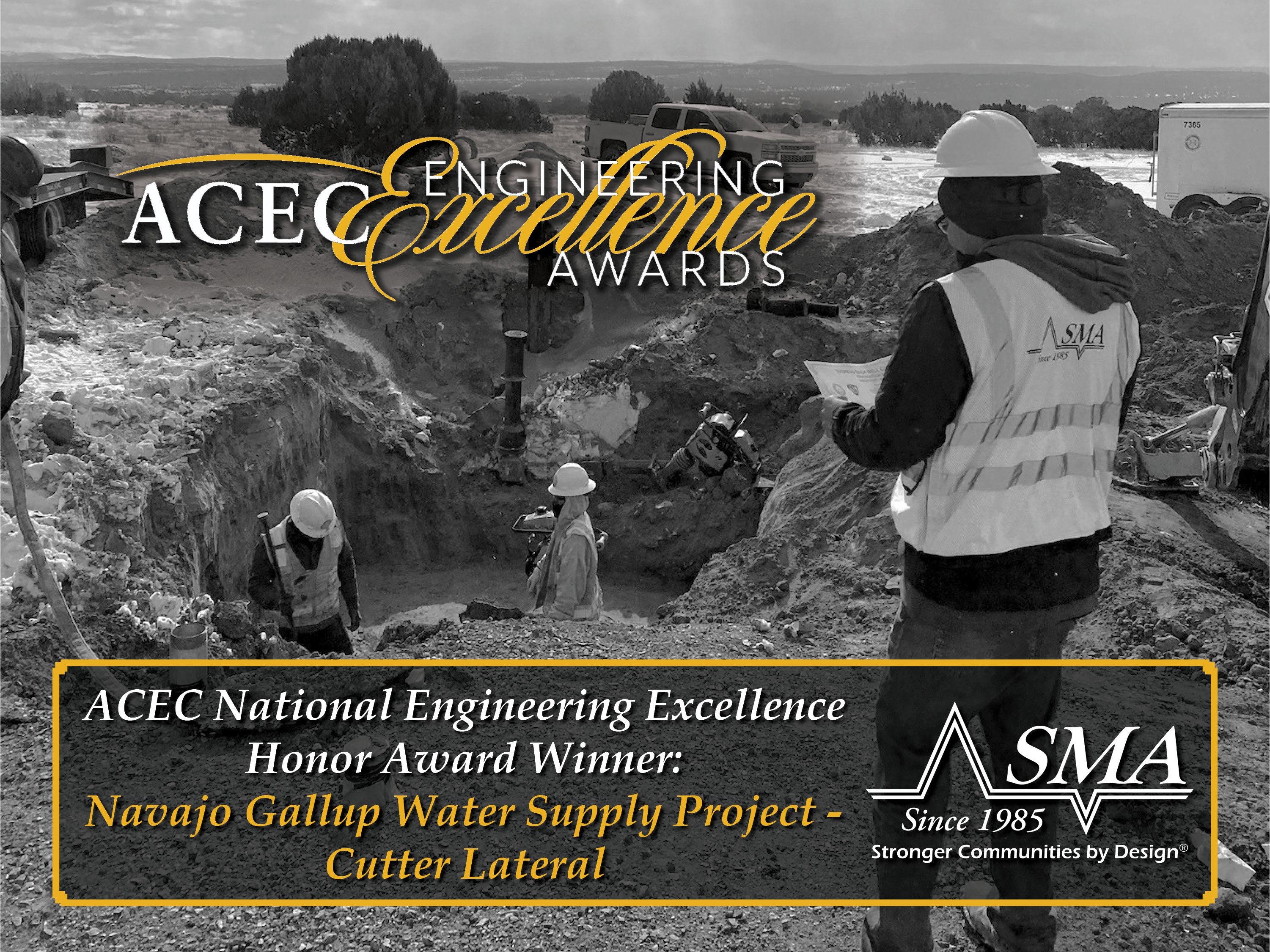 Earlier this year, the Navajo Gallup Water Supply Project (NGWSP) Cutter Lateral Transmission System had been recognized by the New Mexico Branch of the American Council of Engineering Companies (ACEC) with a Water Resources Design Award for our work on the project. We have now been additionally notified that we have been recognized with a National Engineering Excellence Honor Award by ACEC and that the project and our team will be featured at ACEC's National Award Gala in Washington, DC on June 13th.
Souder, Miller & Associates (SMA) was the primary consultant for the NGWSP - Cutter Lateral Transmission System. The NGWSP system is a regional project designed and constructed in eight phases, over thirteen years, to supply regional Navajo Chapters with surface water from the Cutter Reservoir in northwestern New Mexico.
To increase quality of life through reliable and sanitary drinking water, SMA provided planning, design, construction, and start up services for this transmission waterline that supplies large areas of the Navajo Nation who previously relied upon inconsistent and subpar groundwater and costly water transport from other regional sources. The resulting project provided services for the Navajo Nation that resulted in clean, reliable, potable tap water for over 10,000 members across eight communities and four counties in rural New Mexico.
"Working in a predominantly rural region can provide a great deal of personal satisfaction to employees, but rarely does a project receive the kind of state and local recognition seen by NGWSP," said MEI CEO, Karl Tonander. "These accolades reflect the dedication of and results from a full team of employees, the client, and a large support cast for more than a decade. This is a well-deserved award for all involved in providing potable water to underserved communities."
The degree of recognition this project and our team have accumulated are the result of the passion and dedication of all team members involved, including our client communities who were integrally involved in all stages of the project planning, design, and construction. The work performed by all parties on this project has had an immense impact on quality of life for the communities in the region.