Clines Corners Wind Farm
SMA provided extensive planning services to support development of the 1,000 MW Clines Corners Wind Farm and Transmission Line Project in Guadalupe and Torrance counties, New Mexico. SMA coordinated with the client and multiple permitting entities to identify permitting requirements, prepare required application materials, and facilitate necessary approvals and authorizations. For this high-profile project, SMA was responsible for country land use/zoning permitting and New Mexico Department of Transportation right-of-way permitting. SMA also provided critical support to secure approval from the New Mexico Public Regulatory Commission and to facilitate the county Industrial Revenue Bond process.
Macho Springs Wind and Solar Facility
The solar facility s facility, located in Luna County, New Mexico, is a 50 MW AC ground-mounted single-axis tracking PV system and is a result of a 20-year Power Purchase Agreement. Macho Springs is located on almost 600 acres of land and generates power from 704,160 photovoltaic solar modules. The 51-megawatt wind farm is the first dedicated source of wind power for a local power provider. The owner of the wind farm will sell its output to the utility through a 20-year purchase power agreement. The facility consists of 28 1.8-megawatt turbines sited on approximately 2,000 acres of ranchland. The system provides enough renewable power to serve 12,000 homes.
Red Horse Wind Project
SMA has provided extensive surveying services for the multi-phased Red Horse Wind and Solar Project throughout the lifecycle of the project, located near Willcox, Arizona in Cochise County. The project is one of the nation's only wind/solar hybrid utility-scale projects. With 76 MW solar and 30 MWAC wind, it has 11 miles of overhead 34.5 kV transmission lines and a new 345 kV substation. The wind farm consists of 15 owner-furnished, 2 MW Vestas turbines, each placed on top of steel towers. The solar field is comprised of approximately 250,000 x 305-watt polycrystalline modules, 55 x AE 1000NX inverters, and singleaxis trackers.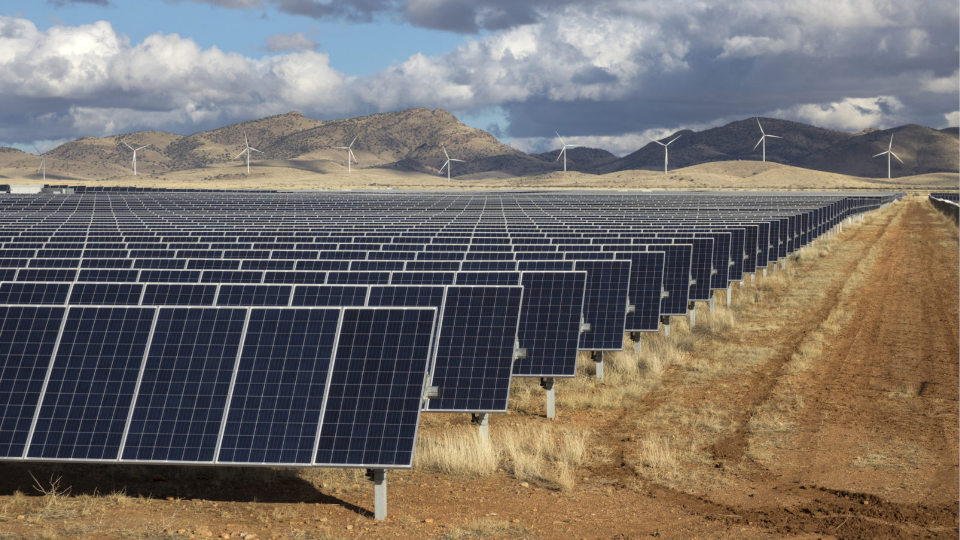 Red Horse Solar Project
SMA was contracted by the original project developer, Torch Clean Energy, LLC., and has since continued work for the current owner, D.E. Shaw Renewable Investments, LLC. SMA has provided boundary surveying services for the acquisition of right-of-way and land leases from the Arizona State Land Department as well as land purchases and easements from private landowners. During the project design and construction phases, SMA provided Swinerton Renewable Energy, LLC., with topographic and construction staking services as well as QA/QC surveying. SMA also performed construction surveying and layout services for project roadways and operations and maintenance buildings (for Rummell Construction, Inc., and for 4-L Construction, Inc., respectively). Upon completion of Phase I of the project, SMA performed the as-built ALTA surveys for D.E. Shaw Renewable Investments, LLC.