ACEC NM Engineering Excellence Awards 2020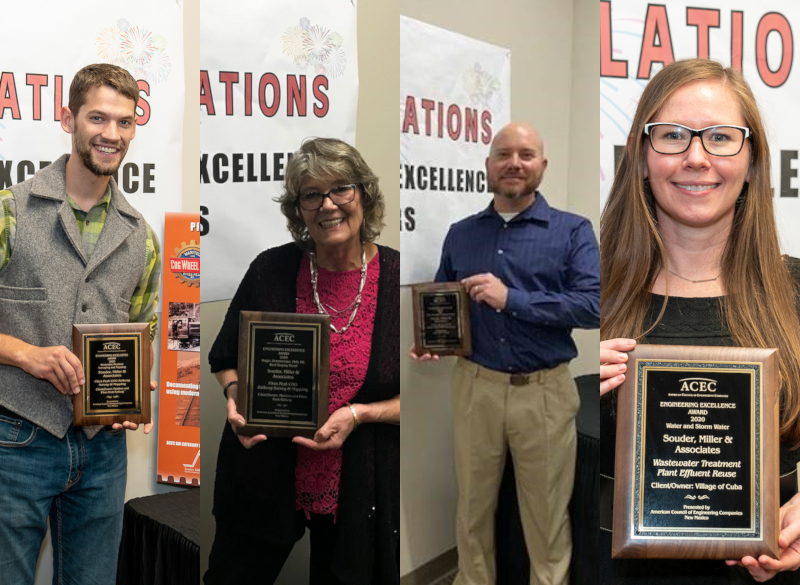 Earlier this year, Souder, Miller & Associates (SMA) was honored to receive several Engineering Excellence Awards (EEA) for multiple projects from the New Mexico American Council of Engineering Companies (ACEC). ACEC NM hosted a virtual gala last week, to celebrate the nominees and winners of the Engineering Excellence Awards.
Projects are rated on the basis of uniqueness and innovative applications; future value to the engineering profession and perception by the public; social, economic, and sustainable development considerations; complexity; and successful fulfillment of client/owner's needs, including schedule and budget. The following projects were recognized by the ACEC NM as demonstrating a high degree of innovation, achievement, and value:
EEA Category D - Surveying and Mapping Technology
Honorable Mention: Pike's Peak Cog Rail
SMA Contractors Market Sector, SMA Geomatics Technical Sector
Project Manager, Gordon Kuenn, P.L.S. (Pictured is Michael Flowers, L.S.I.T., Project Surveyor accepting the award on his behalf)
SMA provided surveying services for the 128-year-old Manitou Springs to Pikes Peak Cog Railway in Colorado. This historic line is the highest in elevation in North America traveling from 6,600 ft to just above 14,000 ft with an average grade of 12% and the steepest grade being 24%. The railroad climbs 8.9 miles to the Summit of Pike's Peak Mountain.
Extreme elevation differences, limited access, high altitudes (14,000 ft), and many feet of snow to contend with, presented a challenge to accurately survey existing conditions. Modified railcars were used to transport survey crews along the railway which was too steep to safely travel without the cog system. The project team mounted the Mobile LiDAR on a cog railway flat car to take the journey to the summit.
Additionally, SMA performed Unmanned Aerial Vehicle (UAV) data collection and ground topographic surveys of the railroad depot, maintenance facilities and parking areas.
EEA Category F - Water and Storm Water
Category Winner: Cuba Wastewater Treatment Plant Effluent Reuse
SMA Tribal Market Sector, SMA Water Technical Sector
Project Manager, Maggie Sims, P.E. (Pictured)
During the Cuba Wastewater Treatment Plant Effluent Reuse Project (Phase 2), SMA worked with the Village of Cuba (Village) to navigate a complex effluent discharge problem. The Village's National Pollutant Discharge Elimination System permit restricts effluent dis- charge to the Rio Puerco in the summer months. Prior to completion of Phase 2, the Village had a newly constructed wastewater treatment plant, but no way to meet the summer discharge requirement.
SMA designed Phase 2 to reuse effluent to grow feed crops during the summer months on a property adjacent to the plant. The Phase 2 improvements enable the Village to comply with their NPDES permit and utilize effluent to grow feed crops. Phase 2 also included improvements to process, dry, and land apply biosolids at the effluent reuse site. Combining effluent reuse and biosolids land application maximizes the Village's purchase of the reuse site.
EEA Category H - Transportation
Special Project Award: Coors and Blake Intersection Improvements
SMA Local Government Market Sector, SMA Transportation technical sector
Project Manager, Matt Nighbert, P.E. (Pictured)
The Coors and Blake Intersection Improvement project consisted of needed roadway upgrades to correct the below acceptable level of service designation at the Coors Boulevard and Blake Road intersection, and storm drain improvements to capture water runoff at the intersection to alleviate flooding issues. The overall project included lane modifications and widening on Blake Road in order to properly transition into the intersection and accommodate the addition of bicycle facilities, ADA and sidewalk improvements that improved safety, intersection traffic operation improvements to increase overall capacity of the roadway corridor, and the addition of a new storm drainage system which connects to existing pipes and extends to, and discharges into, the Isleta Drain to reduce flooding through the area. The result is a project that exceeds the original requirements and brought needed conveniences to the area, including enhanced traffic flow, improved safety and visual aspects, and upgraded drainage at minimal cost.
EEA Category - Photographic Display Panel
Category Winner: Pikes Peak Cog Railway Survey and Mapping Display Panel
Marketing, Robin Coyle (Pictured)
The display panel for the Pikes Peak Cog Railway Survey and Mapping won in this category as well.
SMA is honored and humbled to be among the companies nominated for these prestigious awards. Thank you and congratulations to our project teams, and everyone else that made this possible!